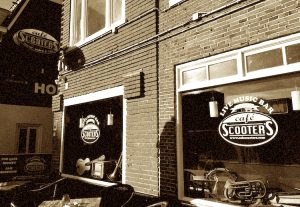 If you walk through Ruiterskwartier and you look around, you will realise that there is a place different from the others. The musical instruments are its introduction card, exposed behind the glass of his facade. An identity sign to discover what is inside. What is this place? What can we find here?
By: Martina Andrés – photos: Connie Kao
Different day, different activity
Scooter'S was established in 2004 influenced by the heritage of American live music bars, where his owner, Ton Eijer, looked for inspiration. Since that time to our days, this place has been growing to become what it is now: a live music bar in which you can listen to good bands and artists, have a great party, play pub quizzes (every Wednesday, in English and Dutch) and sing during the karaoke nights (every Thursday). It is not the typical bar, it is not the typical karaoke place. It is a perfect combination between them both that makes Scooter'S a special place to drink a beer, laugh with your friends, meet international people and of course, have fun.
Live Music shows
In the beginning, it was kind of hard to find bands or artists who wanted to play at Scooter'S, but now they are the ones who not only are willing to play there, they also ask for it, they want to go to Scooter'S to share their music with people. Variety and internationality is what prevails here, you can find from bands from Japan, Canada, Italy or Mexico to a Dutch salsa band that plays Spanish songs. Different music styles are mixed in this place and you never know what you can find here."(tip: you will if you look their Facebook page!)
Karaoke nights
,,How did the karaoke nights started?" we ask to Ton Eijer. ,,They started like a joke. We were not so busy so we could do something to entertain people", he says. From a "why not?" to a reality, karaoke nights have become one of the main activities of this place. And why are they so acclaimed? Because no matter how you sing or who you are, here the stage becomes your home and the public your best friend. The warmth of the public and people dancing and singing with you makes you feel the courage to let your shyness goes away,  to be yourself and  enjoy the moment.
The future
So, what's next? If everything continues this way, Scooter'S is going to be here for more years, offering people this real connection with music. Something new? Yes. In January a cinema is going to be built in front of the live music bar. So, after 2019, you will be able to watch a movie and after that, go out from the cinema and, without further delay, enjoy the beer and the great music of Scooter'S.
We will be watching.