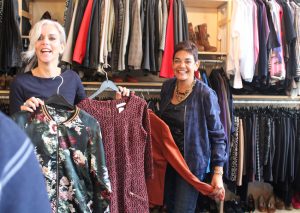 Dress for Success is a global organization, founded and runned by volunteers who helps both men and women with a minimum income to a job application outfit. Dress for Success sends you in a completely new outfit and full confidence to a job interview, contract discussion or a pitch. The first business impression is (partly) decisive for a successful outcome. But what is the personal drive of the enthusiastic volunteers? What makes the organization so powerful? What influence does Dress for Success have on society? What is success? YourPost searched it out!
Receive confidence
Upon arrival at the store at the Emmastate in Leeuwarden Margie Keyner greets us with a friendly smile. Margie started her Dress for Success adventure about six years ago. After reading an article about how someone was styled for a job interview at the Dress for Success office in Amsterdam, she became extremely enthusiastic about the concept. Not much later she was in the store and now she still does. "It's great to help all those people and to see how they flourish." She tells us laughing. "You see people leaving the door with confidence, regardless of whether they get the job or not."
Living from a few euros a week
Margie experienced as a volunteer what it is like to deal with all sorts of people from different social classes. "Dress for Success has broadened my horizon" she says as she spreads her hands. "Our customers are very diverse. This varies from low to highly educated, from young to old people and from students to people with social assistance." According to Margie it is not obvious to everyone that you can do things that you like, go on a holiday and buy clothes. There are people in the Netherlands who must live from a few euros a week and from what they have they spend it on caring for their children.
Promoting of economic independence
Customers at Dress for Success fit beautiful clothes and experience a few fun hours for themselves. They have some quality time. Margie leans forward. "On average, our customers fit clothing that they normally never looked at because the price was too high. This is one of our greatest satisfaction as a volunteer at Dress for Success: not the percentage of customers that gets a job, but the people who leave our store with a smile, burst into tears of gratitude or come back with a treat and saying thank you. That is just great to experience.'' She believes that Dress for Success is in principle a simple initiative, but offers great appreciation and promotes economic independence. Furthermore, Dress for Success is an example of circular economy: the clothes that they receive are for free. Dress for Success gives second-hand clothing a new life and contributes to a more sustainable society. Not every clothe that comes in is accepted just like that, the selection of clothing is strict because it must have a representative and neat appearance.
The perfect combination
The ladies of Dress for Success believe it is important that the customer wears clothes whereby he or she feels comfortable with. ''We look for the perfect combination, whereby the outfit is suitable for the job interview and where the person who is wearing the clothes feels good as well. When applying for a job, the first impression is the most important, just wearing beautiful clothes is not enough. ''It is our goal that the customer also exudes this. Dress for Success her customers receive a nice set of clothing. What they receive depends on what they are going to do.'' Margie tells. She thinks for a moment and closes her hands. "We receive customers who haven't bought clothes for three years and who are very modest. Then we like to give such a person an extra piece of clothing that they like. The moment that customers see themselves for the first time in the mirror, their faces full of disbelief and emotion is amazing. They can hardly believe that they look so beautiful. That makes volunteering amazing.'' Success is in the dress!