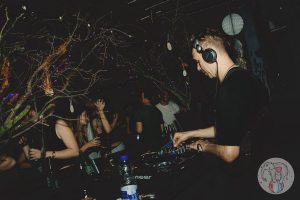 A great night might as well be followed by an even greater morning. In part 4 Go Dance. Go Smile. Go Play Some Techno I took you on a techno event at a charming club in the heart of Leeuwarden at Poststraat number 21. However, the story didn't end there.
By: Patrizia Rangelova – photo: Alwin Sinnema
During my night adventure I met the people behind the organization that hosted the event. After the lights went on and the music stopped, I thought that was it for the night. However, I got invited with them to join an after party at one of the DJ's place. So, feeling like the cool kids, I followed them to an apartment nearby. The environment was nice, people were having pleasant conversations, the music was relaxed and most importantly, everyone was enjoying their time.
International students
Jumping from topic to topic I was pleasantly surprised that most of the people around me were actually mostly international students. Turns out there are several local-based organizations that host techno events, which are formed by enthusiastic international students. One of them going under the name of Post Paradise is a series of events that especially focuses on techno and house music. Started off by a group of friends all with different ideas, different dreams, united by the love for music, have created one great concept that continues bringing people together to share and experience great nights.
Another organization is Circus of Love, which is a foundation 'created for techno lovers, dancing for a good cause'. Those bright young girls and boys are collecting all the profits made from their events to support the project Circo Fantazztico which has the purpose of giving the performing volunteers in Costa Rica financial support, so that they are able to organize social activities for the children in need.
The finest techno tunes
Never-the-less, those organizations have for sure made some memorable events, inviting names like Unders and Mila Stern, and most importantly always providing us with the finest techno tunes. And it all may have started just for fun, but now it makes an impact. The house and techno scene is growing with the support of all those enthusiastic talents, which are sharing love for both the music and the city. I just want to thank all of you out there working hard, creating memorable experiences, filling our hearts with joy and happiness. We, your audience, are excited to see what you have in mind for the upcoming year.