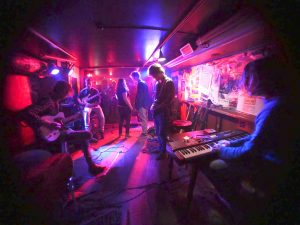 While exploring the magical lands of Psy-Fi, I stumbled upon a group of musicians in love with the language of music. They didn't need anything more than their instruments to just jam and see what happens. I found it fascinating to see so many different people, so many different talents on one stage following each other's footsteps in the making of some awesome jazzy grooves and soulful blues.
By: Patrizia Rangelova – photo:  Lesley Biervliet
I wanted to know more and listen more, thus this trail took me to a small smoky bar in the heart of Leeuwarden. Mukkes is by far know as an alternative rock café on the Grote Hoogstraat. It is a place that welcomes everyone with taste for 'real music' as they say for themselves. The music assortment is wide, the audience is enthusiastic, the sound is good, and the beers are cold. Mukkes also hosts the Wednesday Jam Sessions, where you can find those crazy musicians from Psy-Fi still jamming and making love with their musical instruments. It is also not only those we met on the festival, but every enthusiast is welcome to join the stage and every loving visitor to enjoy the ride.
On adventure
Happens that my dear roommate is one of the regular Wednesday jammers, so he took me on adventure to show me what is it to be part of this world. Right from the door I was enchanted by the crazy guitar solo that was happening on stage. I started making my way through the crowd to the front of the stage driven by the urge to see who stands behind this heavenly sound. And then at this same moment I reached my desired destination two guys jumped from the audience to the stage grabbed a guitar and started playing alongside with the soloist. The madness was real and exciting, it just escalated so quickly. And then the drummer kicked in…
Amazing
It will be a lie to say words cannot describe this. It was amazing, it was great, it felt like freedom, it smelled like cigarettes and beer, and the music was complete satisfaction for my music-loving soul. Come with me, grab a cold beer or maybe even two, light up a cigarette… and the rest is for you to find out. As conclusion, I will just say that the Wednesday Jam Sessions and Mukkes take you on a trip so crazy there's no chance you won't like it. The following video, I derived from the holy search engine YouTube, will show you what I mean.