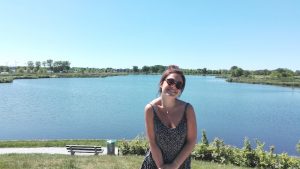 My name is Maria Fernández, I'm 20 and I'm from Girona, Spain. I love the area, the food, the weather, the people… but every now and then I need some changes to keep it all exciting!
I came to Leeuwarden four months ago to start my exchange period at Stenden University. I'm a Tourism student and I like to visit new places, know about different cultures and meet people from around the world. So after a few adventures abroad in other countries I knew I had to take the opportunity and study a semester abroad.
A spot that I especially like in Leeuwarden is de Groene Ster. I love being outdoors, and this is the best place to walk or fietsen around, sit on the grass or on the sand, play some cards, have some music and it becomes perfect when you add some food and drinks to it. Families and groups of friends having fun and spending some quality time everywhere around you create such a nice and enjoyable atmosphere.
The fact that everyone working for YourPost is volunteering for it amazes me. It shows how people is willing to take part in a project that wants to share the beauty and charm of Friesland.
YourPost is a press office for civil journalism. Volunteers, students and professionals together tell stories about Leeuwarden and Fryslân and the people who live there. With the aim of showing the special character of the region. This in the run-up to Leeuwarden-Fryslân 2018. Who forms YourPost's DNA?