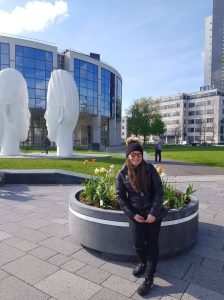 Tourism Management is one of the many study courses available in NHL Stenden. The program teaches about the impact of tourism both in cultural and environmental aspects as well as economic interest. The tourism industry has been severely damaged because of the coronavirus outbreak. Since the NHL Stenden university focuses on real-life situations and prepares its students for any crisis, the damage caused by the industry has been discussed among students as well.
By: Iva Karafmilova
Stefani Stoykova is a 20 years old student from the sea capital of Bulgaria, Varna. She is a second-year student in the program Tourism Management, and I had the chance to interview her about her insight into the situation happening in the tourism industry now and her study program.
Stefani shares that the Tourism Industry is suffering the most now. Many tourism-related companies went bankrupt and key players in the industry have resigned step by step like SouthWest airlines or have cut many employees and revenues such as Warner Bros who usually attract different target groups to a variety of locations, leaving them with unforgettable 'movie tourism' experience.  Moreover, her insight into the situation is that while some industries use loses their revenues and bankrupt, other industry giants like Thomas Cook use the opportunity of failing competitors to regain power. Nevertheless, it is well-known that many tourists do not travel anymore or at least, don't travel as often as they used to, which results in lower revenue and fewer opportunities for tourism-related companies.
On the other hand, many countries and places are no longer offered as tourism destinations, many airline companies can no longer offer flights for as many passengers as before, and several cruise ships do not work anymore, or they offer fewer destinations, compared to the past. Therefore, the economy of different countries such as Maldives, Indonesia, and Africa is suffering. That is so because, for such countries, tourism has been the main source of profit for many years now. Furthermore, since traveling is not as easy and accessible as it used to be, it can no longer be used as a source for not only the above-mentioned countries but for a lot more destinations as well. Of course, many countries closed their borders or imposed restrictions, which additionally troubles the opportunity to travel and to use the tourism industry as a source of revenue.
What do you like the most about the Tourism Management course?
,, I like the intercultural interactions and the variety of subjects and assignments. It allows me to understand how the tourism industry works because the way of learning is different and interesting. With the Design-Based education, we have the opportunity to work on real-life cases with real clients which is something that I really like."
Can you tell me about an assignment that you liked the most?
,, Definitely the group assignment from the second module in the first year. The module was called 'Organization and Personnel' and we had to gain a better understanding of how different tourism–related organizations function. In order to do that, me and my module group) had an interview with the general manager of the biggest hotel in Leeuwarden, which was quite exciting, it was something none of us had done before, so it was very interesting."
What advice would you give to people who want to study Tourism Management?
,, Be prepared for a lot of new things like new intercultural acquaintances, exciting experiences abroad and in the Netherlands. You will talk a lot, so you have to embrace it and never be shy! The tourism management program educates students not only on the tourism industry but also on the managerial aspect of this industry – so be prepared to try and navigate personnel!"
Thank you for your time!