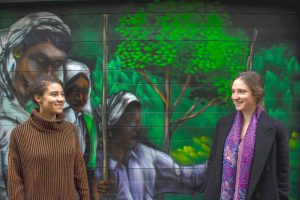 Meet two talented young women Zalia and Sintija, who are both 23 years old. Zalia Omar is from Germany, but she grew up in Germany and Tanzania whereas Sintija is from Latvia. What connected them was not only their choice of study, but also the passion for having their own business. I had the chance to interview them and ask more about their business idea.
By: Iva Karamfilova
When I asked how Zalia and Sintija got their business idea. They shared that they met and got the idea during a Media Innovation Camp organized by the StuCo (Student Council) of Creative Business and an American entrepreneur and coach Philip Ryan Block: ,,We had relatively similar ideas, we met up and started working on a project together. During the process of that, we decided to register to become more official, but what inspired us was our shared vision and values."
Sintija shares with us that she quit working in the music industry and looked for new opportunities. During the camp, they asked the women one specific question: ,,What is the one thing you would build if nothing stood in your way?" Turned out that both wanted to help people become more sustainable to preserve the Earth and prosper on it. ,,It only made sense to me that if we came together, we had a bigger chance of seeing our dreams come true. So, I reached out to Zalia, we had many discussions, a lot of research, and consequently, decided that starting a business would be the most logical step forward."
Was it hard in the beginning?
Zalia: ,,We are still in the starting phase of our business and of course we have plans but you never know where it ends up going. We do however have and had some obstacles which are partly also due to both of us being a foreigner but nothing that made me question the business so far."
Sintija: ,,Yes, it still is. Every day brings up something new, unknown, and a different issue to deal with. We are building this from scratch. Nevertheless, since we are both extremely driven and enthusiastic, we always find the needed solutions and keep ongoing."
When I asked if they experienced any failures, I got an interesting answer from Zalia: ,,I would not say failures, but rather some things just not working yet. It is a continuous improvement process and you only fail once you give up or do not see what could be done differently. For me, it has been important to learn to make our ideas tangible and practical in real life. For example, creating a business model that works and is understandable for the partners as well as clearly represents our goals and values."
What is unique about your business?
Zalia: ,,Even though we are a marketing company, the focus is fully on sustainable businesses. This is very important as the basic value of our business. For the moment, we also really want to focus on local businesses to help them gain more reach since that is something that grew in importance since the rapid digitalization of everything since the start of the year."
Sintija: ,,Sustainable marketing. Not a brainwashing 'look at me, buy me, I am the best and shiniest' sales ad, but real, straightforward, and respectful interaction with the people that we and our clients connect with. And of course, at the core of it – the contribution to creating a more prosperous earth."
If you had one piece of advice to someone just starting, what would it be?
,,Just do it. Go for your vision, try to make it work in real life. It will not be easy, but if you believe this is what you have to do – it will be rewarding every step on the way."
We wish Zalia and Sintija much luck with their business, and we look forward to seeing them again!
Socials: Instagram: ysg. platform (Your Sustainability Guide)
LinkedIn: Your Sustainability Guide
Facebook: Your Sustainability Guide