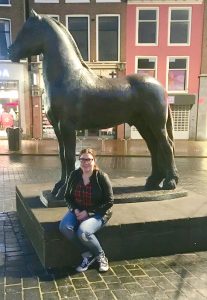 Hi! My name is Rica Kenning; I am 23 years old and come from a small village in Germany. After I finished school I went to the UK for a year as an Au Pair to grow English skills. After that year I started studies in Germany but missed the international atmosphere, as I had in the UK.
So I quit my studies back in Germany, packed my bags and came to Leeuwarden to study international Media and Entertainment Management. Now I am already living in Leeuwarden for 2,5 years.
For me Leeuwarden is special, as it combines in my eyes the perfect city life, which I love and miss in my small village back in Germany. I personally like the busy city life but also the silence of nature. Here, I have both, only half hour away there is the North Sea and in the other direction are open fields. I even wake up in the morning by the noises of the seagulls. That is also why I chose the Frisian horse statue in my picture above as a special place, because it builds the city centre of Leeuwarden, as it is always busy there with markets and citizen doing their shopping. On the other side, it symbolizes the nature in my eyes and of course it stands for my passion of horse riding.
I joined YourPost as a school project I got into, and I really enjoy the meetings with the team to share ideas, to chat and just to have fun. Moreover, I discovered a love for writing stories and sharing them. Further, after seeing my first article being published I knew that I want to join this sector for my internship.