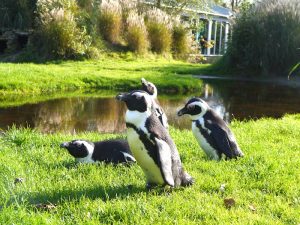 AquaZoo is not only a must see, when visiting Friesland but also the Netherlands. AquaZoo is unique in this country. As well as the unforgettable memories that are made by exploring the Zoo and encountering animals from around the globe. The park was firstly known under the name Otterpark AquaLutra Leeuwarden and exists since 1993.
By: Madeleine Lehmann
After the park was sold to another company and a massive compilation, it was opened under the new name AquaZoo Friesland in 2003. As its name already says, AquaZoo is a watery zoo in Leeuwarden, Friesland that has animals from around the globe. Most of them are aquatic animals, including penguins from Africa, polar bears from the artic area, capybaras from Brazil, flamingos from Africa, pelicans from Europe, lemurs from Madagascar, wallabies from Australia, otters from China, India and Malaysia and more.
Various animals
Altogether, AquaZoo counts 88 various animals. The zoo is located mainly outdoor with a beautiful nature, water and separate farms, where you can meet animals face to face. Its features are the programs and presentation of animals, where you get further information and get closer to the animals by feet or boat. For instance, the seals safari, where you join seals in the water with a trekking boat. Furthermore, the park offers several children play grounds, where children or those who still are, can climb, jump and play. Based on the proverb pictures say more than 1000 words, let the pictures tell the story of AquaZoo Friesland!