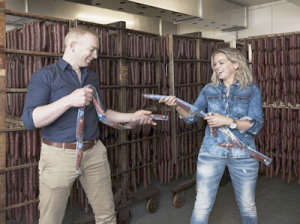 The company Weidenaar is famous in Friesland for their Frisian dried sausage which they deliver to over 800 supermarkets in the Netherlands. In addition to dry sausage, Weidenaar also sells liver sausage, seaweed pitch, grill sausage, grilled rolling tray, fresh meat and meat products to supermarkets in wholesales.
By: Stephen Krans – photo: Vincent Schiphorst
Weidenaar Company is one of the strongest companies in the North because of what they are specialist in: dried sausage, and they are very active at regional level with regional specialties.  In 2015, Willem, employee of Weidenaar, became the Master of dried sausage making in the Netherlands. Their meat is carefully selected and processed into craft specialties.
History
In 1927, Weidenaar started the dried sausage business in a small village called Niawier. Niawier is situated in the northeast of Friesland, just above the beautiful town Dokkum in the north part of the Netherlands. Weidenaar is a family business, now in the hands of the third generation.  All family members contribute in their own way to the success of the company. In 2004, the company was moved to Dokkum, where it was modernised with the latest equipment. The famous Frisian dry sausage is smoked on peat and oak wood. This is still prepared according to 'pake's' (Frisian for 'grandfather's') secret recipe.
Winner
In the category "preserved dry sausage", the Weidenaar sausage was finally declared a winner. In all eight products submitted by Weidenaar to Food Control Agencies, they were awarded with gold. This is a contest for all butchers in the Netherlands. Every year Weidenaar has very high scores. So there products became golden products. Part of the ingredients grandfather Weidenaar started to use 90 years ago are peat and oak. The oldest son has been using the ingredients till now, honouring the tradition and transferred the recipe to his son Lieuwe Weidenaar.
We meet Wini Weidenaar.  Can you tell us a little about yourself and the family?
,,I am the youngest daughter of Weidenaar and I am 34 years old. I have two brothers and one sister. Lieuwe is the General Director and he is doing great being very professional. Ingrid Weidenaar is the one taking care of the administration. She is our aunt, she is the sister in law of our father. "
What is your role in the company Weidenaar?
,,I am freelancer in communication for more than 11 years now.  I live in Leeuwarden but grew up in the small village Niawier. When I was young I already worked in our company. On Friday evening and Saturday I helped my father in the shop. Nowadays, I am responsible for the communication and marketing of our company. Besides that, I help in selling our merchandise to big super markets like Albert Heijn."
What makes your dried sausage different from others?
,,That is the secret. People in Friesland like our brand and I think the biggest secret is, the sausage is always made of the best meat by the best people."