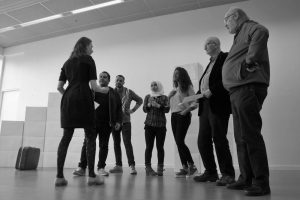 "Through theatre you can reach people in such a powerful way. You can touch them, let them discover their own hidden talents and make them happy. Sometimes, you can even change them as human beings or change their lives. It is a big gift to do that for people", says 21 years old Vera Mulder, 2nd year theatre docent student at NHL in Leeuwarden.
Vera thinks Theatre Teacher (NHL) is a very diverse study, in which students can decide themselves what to engage most in: social work or artistic activities. Furthermore, it incorporates many practical projects. Mulders significant project this year was a community theatre project named War Child that she executed together with Detsje IJkema.
By: Lena Lötzer – photo: Maarten Dikken
War Child
War Child is a production about people who have experienced growing up in war. "The past is not the past, it is now. War is happening right now and we are all involved in it as we all have an opinion about it even though it might be hundreds of kilometres away", says Vera. With War Child, she aimed at reflecting the old stories and the new stories to show that nothing really changed. Her cast consisted of people who have experienced the Second World War as well as refugees from 'today'. Mulder's main idea was to connect them through their experiences of living in a war situation, although their lives, ages, cultures, and religions are totally different: "You would not think they have something in common, but they do. They were all children during war; that takes away all differences ".
Telling their stories
For Vera it is most important that the actors tell their own stories and that she only facilitates this process in a creative and theatrical way. Through different playful and theatrical assignments, Mulder and the cast established different scenes. In the end, these scenes were connected, resulting in one coherent play: "It did not even feel as if we were doing theatre because everyone had a blast doing the different assignments every week. However, in the end everything came together". The performance also proved Vera once more what makes her so passionate about being a theatre docent: "I saw how much the actors have grown in self-confidence each week. It made me so happy that I had tears in my eyes sometimes". Nevertheless, not only the cast but also Vera grew out of the experience: "Sometimes I thought it was too much and too big for me, but we made it all together".
Future plans
Vera is also part of 'De Reis', a project related to Leeuwarden 2018, where theatre makers are being supported to create community projects. Together with Mim Hardege, Vera is planning on executing another big performance evolving around the theme 'Buiten de boot vallen' ('being an outsider), in 2018. With this production, Vera and Mim hope to become more and more professional theatre makers.