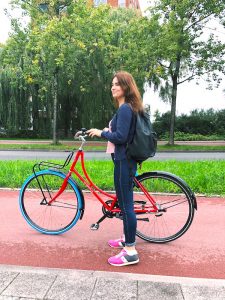 Waking up one morning, I found myself in a new world. Everything seemed so different, but I enjoyed it. I liked that I can explore my new world. I had never been to the Netherlands before. I didn't know anything about this country. Thus, the more interesting it was for me to get acquainted with it.
Happiness
I was really surprised about the people. So friendly, calm and open-minded. It was so unique and unexpected. Every day I was greeted with a smile. At first, I was completely confused. Why are people who I don't know greeting me, and wishing me a good day? I was looking for a catch. And then I realized that Dutch people have a very open-minded culture. They share their positive emotions with everyone. The more people I met, the more I liked them.
Calmness
Narrow streets and tiny beautiful houses. Small canals with big boats. The most delicious ice cream I have ever tasted. People who enjoy their everyday life. Teachers who care about their students.I liked the world I was in. I really appreciate the time that is given to me to discover this beautiful city. The city lives, and the life boils in it.
Safe
In the time I have been here I met a lot of people. And almost all of them said if I have problems I can just write or call them. And they will help me. People truly care about me. And it is one of the most amazing feelings I have ever felt. I understood that no one will ever be alone in Leeuwarden. There will always be people who can help and support.
I became aware that Leeuwarden is a city where a comfortable life is affordable. I could not imagine that the foreign city could become so close to me. A city where I feel safe, calm and happy.