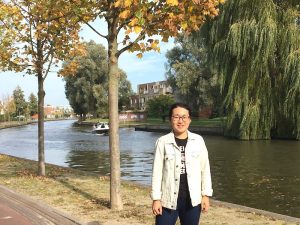 Hi! My Chinese name is Feng Chien Kao, and my English name is Connie. People usually call me Connie because it is hard to pronounce "Feng Chien". I am 22 years old. I come from Taiwan, which is roughly the same size as the Netherlands and it is surrounded by the sea. I live in Taipei, which is the capital in Taiwan.
I have dreamed to be an exchange student since I was 17. Because Dutch people speak English very well I chose Leeuwarden and here I am!
Leeuwarden is totally different from Taipei. I like the quiet and simple life in Leeuwarden. I would say the canal near NHL Stenden – the school where I'm studying – is my special place in Leeuwarden, because I often walk this way to buy groceries or go to the city center. Sometimes I meet a lovely cat and I think it's comfortable to walk along the canal.
I chose a course called Project Management, and the teacher selected me and five other girls to form a team to help YourPost to make this small and beautiful city known in a positive way. We will do our best!