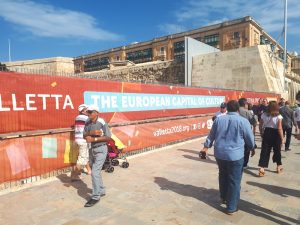 Cultural capitals always come in pares. This year, Leeuwarden is linked with the capital of Malta: Valletta. Narrow Streets, music around every corner and lots of terraces characterize this historic city. The Valletta 2018 Cultural Programme is a collection of over 140 projects and 400 events, which mostly have already taken place.Valletta has invested strongly in a programme that involves international and local artists collaborate. A total of 10 million has been spendon several infrastructure projects to evolve and expand even beyond 2018. Time for me to check out if you can actually see something from these investments in the city.
By: Rick Beimers 
The doors of Strait Street
There is a unique building around every corner in Valletta, which reminds you of the rich cultural history of the city. I decided to first visit Strait Street, which is being promoted as a growing hub of social life and creative activity. The street is 665 meters long and not wider than 4 meters. Which makes it the narrowest street in Valletta.
New life
To breathe new life into Strait Street, the cultural programme appointed Dr Giuseppe Schembri Bonaci, an arts academic form Valletta. His job wasto transform Strait Street into a hub of creative activity. The narrow street is packed with little art galleries and comes to life even more at night. Unfortunately I only got to see one of these little galleries during my visit. While talking to a citizen of Valletta I discovered that Strait Street also is a hub of social life at night, which I can now confirm without a doubt. Strait Street is undoubtedly a must-visit for every creative and social mind.
Upcoming projects
With other projects like 'Bodies in Urban Spaces', where young artists invade the public space by creating 'obstacles' out of each other, Valletta2018 wants to create a feeling of irritation as well as amusement, which makes people think about the restrictions, limitations and possibilities of the city. The programme also focusses on music. The first thing you notice when you're entering Valletta is the Opera House. With the project 'City of Humanity', Valletta introduces the first ever operacyclus. With a mix of very different genres of music, the city wants to shine new light on its history and their own Maltese language.
Information
A visit to Leeuwarden's 'sister cultural capital' is definitely worth it! For more information about the Valletta2018 programme, make sure to visit https://valletta2018.org/. Don't forget that 2018 is nearing it's last month, so there are only a couple weeks left to follow the programma. But if you miss anything, don't worry. Valletta and Leeuwarden will continue their legacies in 2019, by hosting even more events