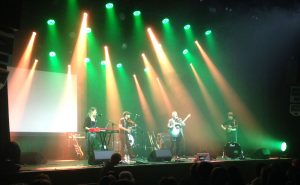 There are more than 7000 languages worldwide, maybe even more. Wednesday, May 23 2018, the Liet International Festival offered artists who sing in a minority or regional language a stageto bring different cultures and languages together.Not just the languages were diverse, also the style of music varied. Fifteen artists performed at the main event at Neushoorn and finally `The Rowan Tree´ from Cornwall in Great Britain was pleased to win the competition and to bring the title back home to their country.
By: Anna Greifeneder
Volunteer work for a joint vision
The Liet International Festival is an international music event and this year it was located in Leeuwarden. Every year it takes place in another country. The festival was invented in 2002 and is organised by the Frisian foundation Liet International in cooperation with its European partners. The whole event is organized by volunteer workers. All of them follow their passion for a diversity of languages, cultures and music.
Lan fan Taal
This year the festival is hosted Leeuwarden again, where everything started and this was the perfect decision. Leeuwarden, as the Cultural Capital of 2018, is even cultural richer this year then normally.Therefore, this year it is also named: "Liet International 2018 XXL".
The festival is not just a general part of the Cultural Capital, it is especially connected with the project and exhibition Lân fan Taal, which means "country/land of languages". Lân fan Taal wants to show the variety of languages and it should build "a free state for all languages". There are a plenty of events constantly going on and therefore "Liet International 2018 XXL" is another important item on the agenda.
The positive reaction of the visitors
The festival reached with its visitors a huge internationality and especially this made it so special for the audience as well as for the artists.
According to one visitor from Israel: "The Festival has such a good atmosphere, it is not too formal and also not too big. I feel really well here, it is a bit like a home."