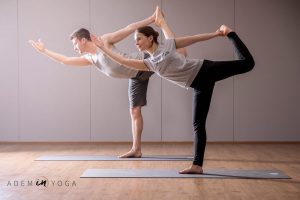 LEEUWARDEN – Meet Benny Rebergen who has always been fascinated by how a good interaction could be either at dinner with his parents or the positive impact of the time spend in the gym. This interest brought him to Amsterdam where he studied communication for three years and then later to Stenden University where he got his BBA in Hospitality. Today Benny is an entrepreneur here in Leeuwarden and teaching yoga and doing some coaching in his studio in Leeuwarden called 'Adem in Yoga' near the campus of Stenden University.
By: Debora Dimitrova – photo: Adem in Yoga
Benny, when and how did you start with your yoga practice?
,,It has been quite a journey that begun when I was sixteen years old. My friends and I started going to the gym and group classes caught my interest. After a few workout sessions I was approached by the trainer who complimented me on my technique and said I could be good at teaching. I gave it a try and haven't stopped ever since.
My first encounter with yoga was though teaching BODYBALANCE, a Les Mills program which combines elements of Yoga, Pilates and Tai Chi. The more I practiced the better I felt in my body and mind. Last year I spent three weeks on Bali following a Yoga Teacher Training which helped deepen my knowledge even further. Everything I learned through study, teaching and personal practice I try to pass on to my participants by offering safe yet challenging workouts with room for mindfulness and self-exploration."
Could you give us more information about your studio in Leeuwarden?
,,As you already know, my place is called 'Adem in Yoga' which comes from 'Adem'- breath in, in Dutch and my philosophy is in the name Adem. The studio has become the place we people share our stories, laugh together, and just support and 'normalize' the struggles we face."
You mentioned you are an entrepreneur and you teach in your own studio in Leeuwarden. Tell us something more about yoga classes?
,,At the moment I give six to eight classes weekly and I offer both active 'power' yoga classes and restorative classes where participants can wind down through movements that help 'repair' the damage from long hours spent sitting in front of a computer or feeling stressed/tense. It's rather remarkable what a simple reminder to relax one's shoulders, take a deep breath and really stretch in the right way can do to better sleep, posture and overall wellbeing.
I also look forward to offering English classes around mid-April of this year. Who wants to join can always email me at info@bennyrebergen.nl."