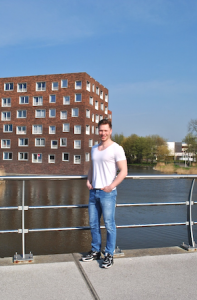 Hello reader, nice to see that you are interested in my post. My name is Alexander Willermann. I'm 25 years old and from a middle-sized town in Germany called Osnabrück.
In my hometown, that is about 2,5 hours away from Leeuwarden I'm studying Applied Economics. For my study program, an exchange semester is mandatory and that is why I have the luck to live in this beautiful town for six months. At the NHL Stenden, I'm studying right now Communication with eight other exchange students.
I decided to make my exchange semester in the Netherlands because I was always interested in this country. Some of you may think that an exchange semester only 2,5 hours away from home can't be so different, but I can tell you at least for me this is not true.
One of the biggest differences that I experienced in my already two months here is the educational system. In Germany, I also study at a university of applied sciences, but here in the Netherlands studying is much more practical and less theoretical than in Germany. Learning by doing is the motto here and this also the most of the time in groups. So, if you are a kind of person who likes to work on his or her own, I would not recommend an exchange semester here to you.
Besides that, Leeuwarden is a beautiful city. My first days here were very dark, rainy and windy (oh my god, you will not find a place with more wind…). But when the Spring starts, I was able to sit in some of the beautiful and not so rare cafes here. Many of them are also near to the canals, which creates a great atmosphere to enjoy the afternoons. I'm looking forward to the Summer to maybe also see a new side of this city and hope that the rest of one of my greatest experiences will end as good asit began.