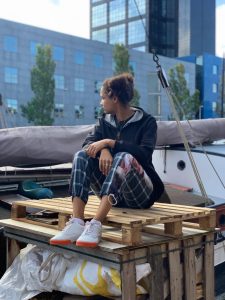 Hello! My name is Erika Irabor – I am sweet 22 years old, born in Magdeburg and raised in Düsseldorf, Germany. When it comes to my DNA I can say that I have black and white genes. The black genes go back to my dad who is from Nigeria and the white genes go back to my Mom who is German.
After finishing my A-Level in Germany I decided to study abroad which was always one of my dreams. The course "Creative Business" at NHL Stenden, combined with the cute city Leeuwarden made me decide to study here. Now after 3 months of living here I can say that it is definitely worth it to study in Leeuwarden. I learned to enjoy the little things in life and being more relaxed which goes back to the fact that people here enjoy riding their bikes. While I ride my bike I enjoy the houses, the atmosphere and the dynamic canals in the city center.
The course Creative Business gave me the opportunity to be part of the YouPost team which I really appreciate because writing about topics I am passionate about seems to be very exciting. My personal interests are fashion and sport and I hope that this content will be an enrichment for YourPost.
Thank you
Erika Irabor