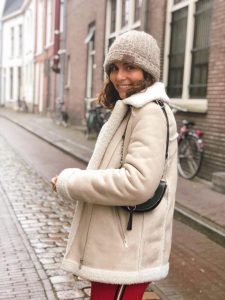 Hi, my name is Raquel. I came from Lisbon, Portugal, where I study Marketing and Advertising and I ́m on my last year of graduation. My father is from Angola and my mother is from a little town in Portugal. I have one sister and a lot of cousins. My favourite part of the year is when we all meet at my grandmother's farm and make a big dinner all together.I love to spend time with my friends, just chilling and chatting, they are super important to me. I ́m 20 years old and this is my first experience living alone, without my parents, in a different country. I moved to Leeuwarden as student in the Erasmus Programme and until now I'm sure that this was an excellent choice. Here I'm studying Communication at NHL Stenden University Of Applied Sciences. The university is amazing and huge, I'm always lost inside. The teachers are super easy to talk with and the students are super welcoming.
I have been living here for almost three months now and I'm enjoying every day. I met a lot of people from different countries and cultures and they're all so amazing. This city is completely different compared to my hometown, the weather, the culture, the persons and the routine. For example here they dinner at 5/6 pm and in my country I just dinner at 8/9 pm. The shops here close at 6 pm in my hometown they just close at 10/11 pm. Here they use the bike to do everything and to go everywhere, in my country I just use the bike to exercise or in the summer. I think these are the things that are really interesting to learn and see. I like to understand how different societies function and how people live, so for me this experience is amazing, I'm super happy.
The opportunity to work with YourPost allows me to share my experiences and opinions about the city, the persons and also talk about my adventures in Leeuwarden.