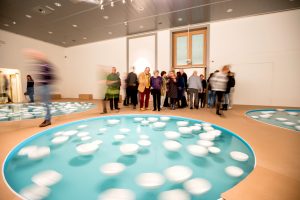 LEEUWARDEN – When visiting the 'Princessehof National Museum of Ceramics', here in Leeuwarden, you can basically expect to travel the world through time. Instead of only showing ceramics you can learn about the history of it, especially how the Dutch ceramic become popular.
By: Rica Kenning – photo: Ruben van Vliet
The exhibition shows not only old cups and teapots but also modern ceramic, which can be considered as modern art sculptures. This makes the museum to present the largest collection of Chinese porcelain in the Netherlands. A big focus is on the 'East meets West' exhibition since this was the start of the museum, thanks to Nanne Ottema, who was a passionate collector of Chinese porcelain. The museum today is placed in an 18th-century house which was used as city place of the Princess of Orange-Nassau. She had roots in Germany and is an ancestor of the present King of the Netherlands.
Human and ceramics
Ceramics and human belong together; which can be noticed at the museum, since ceramics are presented from all time and with the fact that ceramics were used from everyone. In addition, temporal differences in porcelain style can be recognized, which represent the respective politics, economy and culture.
The History
At the first floor is the 'East meets West' exhibition, presenting the Chinese porcelain and how it influenced the European porcelain. The European porcelain production started in the 18th century after two German scientists unravelled the secret behind the Chinese white-gold. The famous Dutch Delftware was more an imitation of the Chinese blue and white porcelain.
In the 20th century artist discovered ceramics as a new art medium, so did Picasso. One of Picasso's art pieces is shown in the Princessehof.
The Exhibit
Nevertheless, when walking I was constantly wondering why I hear the church bells that loud inside. So, I followed the noise and stranded at a hall called 'in motion'; I found the place of the sound! When entering this hall, you see basically only three pools of water and a lot of white bowls swimming in there (see picture). But since they are moving through the water, the bowls hit each other and make noise which sounds like a small bell. It was nothing spectacular built up but the fact that it's so minimalized makes it extraordinary.
Atelier
Nonetheless, a visitor can also get insights into the work of a ceramic artist as they have a room which shows an atelier, with mock-ups for further work. The most interesting for me at the museum was this huge deep-sea squid, like freshly trapped laying on the floor.
To be a part of Cultural Capital 2018, the Princessehof will present in June '18 an exhibition called 'Made in Holland: 400 years a global brand', which will take the visitor past the European ceramics history.