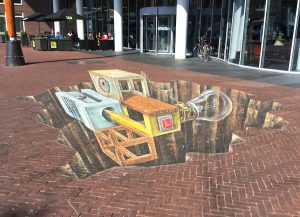 If you walk from the Wilhelminaplein to the Station in Leeuwarden, you will notice some artworks. This time it is literally streetart, because there are five art works directly placed on the street, or more on the sidewalk.
By: Anna Greifeneder
The next level of Graffiti
The graffiti scene in Leeuwarden is special and on a high level anyway, but now it is getting on a new level. Leon Keer, a streetart artist from Utrecht started to place five graffiti in the city center at the middle of May, but it is more than just a well-made painting. It amazes people, because it includes a 3D effect. That means, that if offers optical illusions. It seems that the objects are more dimensional and the visitor can touch it or get in contact with it. The perspective changes the painting. There is minimum one point where it is becoming real 3D, from other points it seems more long-drawn-out.
Cultural Capital fully underway
Now Leeuwarden has the title of the cultural capital for quite a while. Many projects are already realized, others are currently in the progress and future projects are in the planning. One big part might be the exhibition of the famous graphic artist M.C Escher and therefore also the 3D artworks from Leon Keer.
M.C. Escher and optical illusion 
The graffiti are standing in  connection with the current exhibition of M.C Escher at the Fries Museum. M.C Escher is a well-known and in the mind of people still alive artist from Leeuwarden. He became famous for his combination of mathematic and art. During his lifetime from 1898 to 1972 he created numerous, impressive optical illusions. Therefore it seems to be a perfect combination to connect the modern artist Leon Keer to the luminary Escher. It is not just a combination between a similar form of art, it bring the past and the present closer together as well.
Don't miss to walk through the city and get impressed by the amazing 3D artworks.