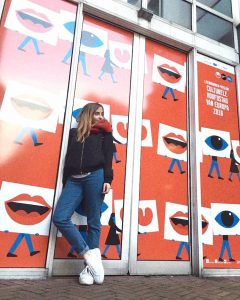 My name is Candela, but you can call me Dela! I am a 20-years-old Journalism student. I come from Málaga, a city in southern Spain. I am an exchange student in the NHL Stenden, right now in Communication, and last semester in Transmedia Storytelling.
I love to write and to discover stories, that is why I like to meet new people and talk with everyone. I think every person has an interesting story to tell to the world, and I love to know about those stories.
I have been in Leeuwarden since August, and I am in love with this city since I first got here. I really like its charm and warmness. Everyone is so nice and always tries to help. When I got here I was a bit (really) lost, and Leeuwarden and its people welcomed me with open arms.
My favourite thing to do in the city is just wander around, because every time I discover new spots that are really interesting and cute. Is a really beautiful place and even though is quite different from Spain, I really like it here. I get tired of the weather sometimes but at the end you just get used to it!
I am so happy in Leeuwarden and I am looking forward to work with YourPost, so we can get to know the city and all the secrets that it keeps together!